'M7742 VIEW E' is what I'm going to show you as an instruction!
Hello and welcome back to Sewing Therapy. In my video about the Bias Hobo Bag, I wore one of my most loved tops and many of you inquired about it. It's a McCall's Pattern M7742! With a simple v-neck and big, dramatic sleeves, this pattern has everything I love in a shirt. The pattern is already relatively simple to make but to make this tutorial beginner-friendly, I made it even simpler and have omitted the pockets. If you prefer a neater look on the inside, please follow the original instructions.
Prior to making this video, I made the top and dress and realized that I love the top more, so I'll be making an M7742 top in this video. While this pattern is not as popular as other McCall's Patterns, I love this top and have worn my cozy and warm Brushed Cotton version many times throughout the winter. And now I'm ready for Spring with my new floral print version.
Material
M7742 Pattern from McCall's Pattern
https://somethingdelightful.com/mccalls/m7742
I used fabrics from my shop
https://twooninefabric.ca/
FAQ Material List
The sewing machine I have:
Bernette B37 Swiss Design Computerized Sewing Machine
https://amzn.to/3etYaFE (USA)
LDH Scissors and thread snip
http://bit.ly/3vbHj04
Tailor's Chalk Pencil
http://bit.ly/chalkpencil
Poly Sewing Thread
https://bit.ly/209thread
Lightweight Fusible Interfacing
https://bit.ly/3GETKGw
Wash-away Wonder Tape
Canada https://amzn.to/35DUwUj
USA https://amzn.to/39ylJc2
Craft Clips
Canada https://amzn.to/32vmK2u
USA https://amzn.to/3sjKKiU
Flat Head Pins
Canada https://amzn.to/2IaKoKm
USA https://amzn.to/32slD31
Point Turner
Canada https://amzn.to/39rgfQA
USA https://amzn.to/3qjfKyA
Here's my Patreon page link. Your support is greatly appreciated!
https://www.patreon.com/user?u=32815284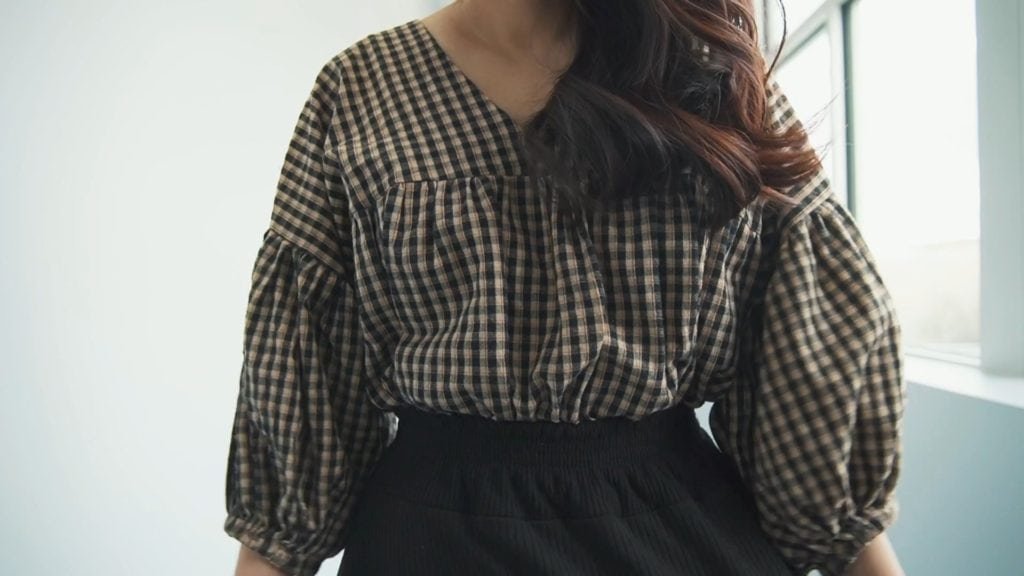 Fabric Recommendations
Any Woven fabrics would work well. All the links are above. Thanks
Cut
1 Front (On Fold), 2 Yoke Front (Mirrored) + 2 Yoke Front Facing (Mirrored), Raise 1/2″ on the center neckline, draw and cut on all four pieces (2 Front Yoke + 2 Front Yoke Facing), 1 Back (On Fold), 1 Yoke Back (On Fold) + 1 Yoke Back Facing (On Fold), 2 Sleeve (On Fold), 2 Elastic (1″ longer than your forearm)
Seam Allowance
Use 5/8″ seam allowance unless otherwise stated
1. Yoke
Pin and sew two Yoke Front at center front RST (Right Side Together)
Begin sewing 3/8″ away from the neckline
Pin and sew Yoke Front and Yoke Back at the shoulder RST
Open the seams and press
Repeat the same process on Yoke Facing
Pin and sew Yoke and Yoke Facing at the neckline RST
Trim the neckline and snip the curved edge
Send Facing towards the seam and press
Understitch
*It's easiest to start and finish sewing at the V
Turn right side out and press
*Neck Facing is a good option if you're using a heavyweight fabric and don't want two layers of Yoke
Pin and baste raw edges of Yoke and Yoke Facing WST (Wrong Side Together)
Basting (is a straight stitch used to temporarily hold layers of fabric together)
2. Yoke + Front, Yoke + Back
Mark the center and gatherstitch the upper edge of Front
Distribute the gathers
Pin and sew Yoke Front and Front together, distributing the gathers evenly to match the Yoke length RST
*It's easier to control the fabric when sewing from the gathered side
Remove the cord and serge
Gatherstitch between the notches on the Back
Distribute the gathers RST
Pin and sew the Yoke Back and Back together, excluding the gathered area
Distribute the gathers evenly, pin and sew
*If you are using a heavier fabric, widen the gathered area
3. Sleeve
Mark the center and gatherstitch on the longer edge of the sleeve
Distribute the gathers
*For long gather lengths, I recommend you divide the area into equal parts to make gathers
Pin and sew Bodice and Sleeve RST
Remove the cord and serge
Pin and sew underarm seams and side seams RST
Doublefold the Sleeve hem enough to fit the elastic and press WST
Edgestitch/topstitch the sleeve hem, leaving an opening
Insert the elastic
Join the elastic ends and sew the opening closed
4. Hem
Serge the bottom hem
Fold the hem, press and edgestitch/topstitch
And that's a wrap for my newest M7742 top, a welcome addition to my spring wardrobe. I like my v necks on the modest side and easily raised this one to fit my comfort level. My favourite part of this top is probably the sleeves – I love a big sleeve! They add character and drama to the top and are so comfy to wear.
Thanks for reading and watching! I will see you in my next post!
Let's get connected!
Sewing Therapy
Instagram – https://www.instagram.com/yoursara_k/
Blog – http://sewingtherapy.net/ ​
Dailylike Canada
Instagram – https://www.instagram.com/dailylikecanada
Facebook – http://www.facebook.com/dailylikecanada ​
Pinterest – https://www.pinterest.ca/dailylikecanada ​
Two O Nine Fabric Studio
Instagram –https://www.instagram.com/twooninefabric.ca